BONEFLY
BEIGE COLLAR
Sale price Price $34.00 Regular price
Premium Silicone collar uniquely developed to withstand the daily Ruffness of your dog in all enviroments. Flexible absorbant with a formulated stretch allowing your pets safety to neck & throat pulls. FindME dog tag with FREE engraving included.
LIFETIME LIMITED WARRANTY
The Bonefly Lifetime Limited Warranty
WATERPROOF • ODORLESS • TEAR-FREE • EASY WIPE • FLEX COMFORT • INTERCHANGEABLE
WEIGHT VARIES BY BREED (Near accurate estimates) For precise size please measure neck.
XXS - Up to 5lbs
XS - 5lbs - 10lbs
S - 10lbs - 25lbs
M - 25lbs - 45lbs
L - 45lbs - 80lbs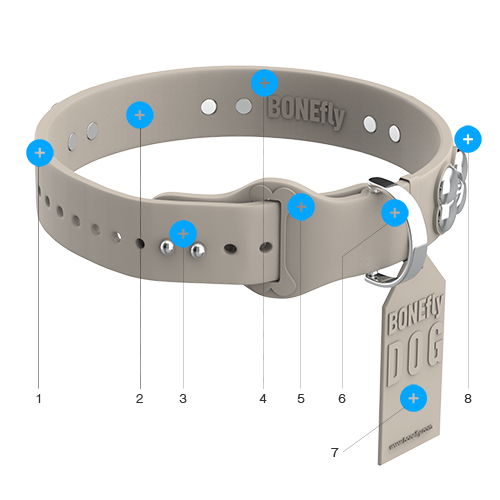 IT'S ALL IN THE DETAILS
1 - CURVED SMOOTH EDGE
2 - SUPERIOR GRADE SILICONE (Lifetime Warranty)
3 - DOUBLE BUCKLE ENCLOSURE
4 - LOGO DETAIL
5 - SIGNATURE BONE BUCKLE DETAIL
6 - PREMIUM PLATED HARDWARE (Lifetime Warranty)
7 - FindME Dog tag
8 - BONE BEZEL ENCLOSURE
SHOP BEIGE